River.
Unique architecture.
Natural resources.
Smart home. Art.
Design and comfort.
Top energy consumption label: PENB A
Maisonette
One to five bedroom apartments
Vibrant square, shops and services
Boaters and boatyards
Amphitheatre
Brewery
Production of own energy
Blue-green infrastructure
Statues and artists
Playgrounds, parks, gardens
BREEAM and sustainability
Recycled 'grey' water
When experts from Skanska join forces with the renowned architects from CHYBIK + KRISTOF ARCHITECTS & URBAN DESIGNERS studio, a modern 21st-century housing district without compromising on the challenges of the coming decades can be created. New homes in Modřanský cukrovar have a whole plethora of traditional and extra benefits. Some of them can also be found in our other development projects.
Convenient financing 10/90
It means you only pay 10% of the price to purchase the apartment, the rest before you move in, in autumn 2024.
We offer opportunity without any additional charge on the purchase price.
Choose a new apartment
in Modřanský cukrovar 1
You have an option to select your new home from a wide range of apartment layouts starting with investment, typically one or two-bedroom flats whose windows offer views not only of the river, the courtyard and the future square with many cafes, shops and services, but also of the poetic old Modřany. The green area between the apartment buildings and the road on the new Komořanska street is more than 30 metres wide and provides a pleasant distance from the hustle and bustle of the street. Larger, two to four bedroom apartments, have unique views of the Vltava River and the opposite Chuchle, which will remain a natural location in the future. Spacious terraces, loggias and wide balconies will allow for a comfortable stay outdoors during sunny days. The green roofs of the apartment buildings are adjacent to private terraces, but there is also a shared community terrace and thoughtful public spaces.
The high standard of living in the second courtyard of Modřanský cukrovar is underlined by large windows with a lowered sill, taller frameless doors, premium furnishings, hot water underfloor heating on which design vinyl slats with a rigid mineral core are set, as well as the distinctive design of Maxim Velčovský's paving. A smart video phone and smart home technology will be a practical help to your new home.
Gallery
The visualizations below are only illustrative and show not only possible standards, but also possible client changes.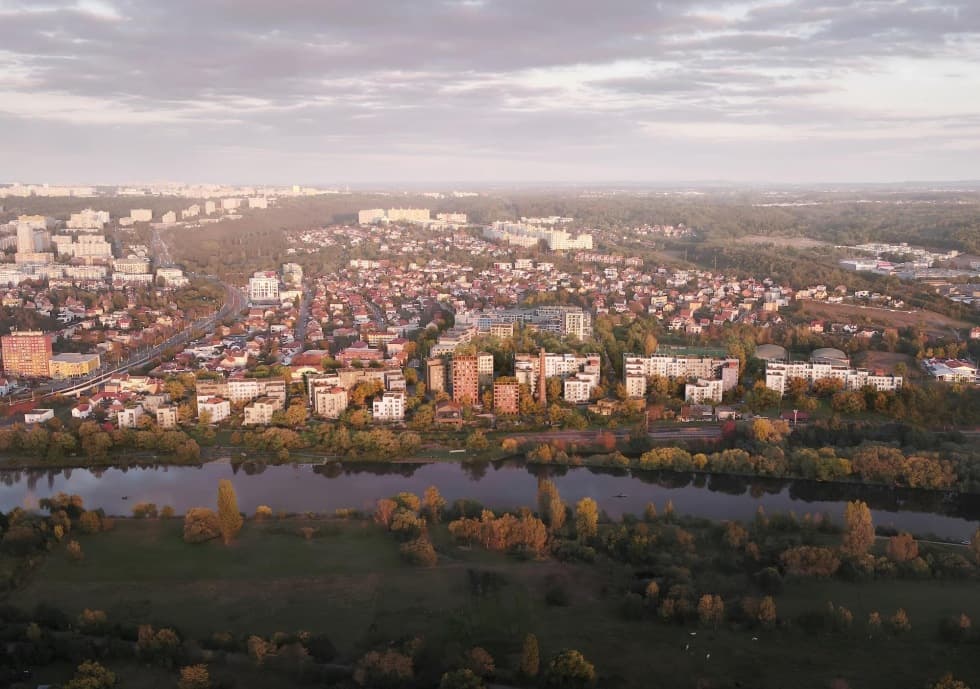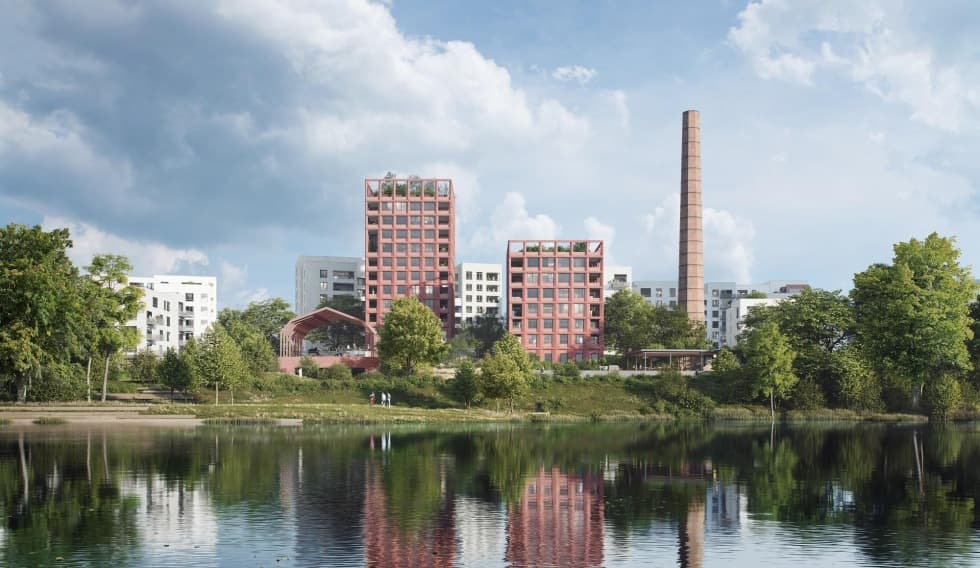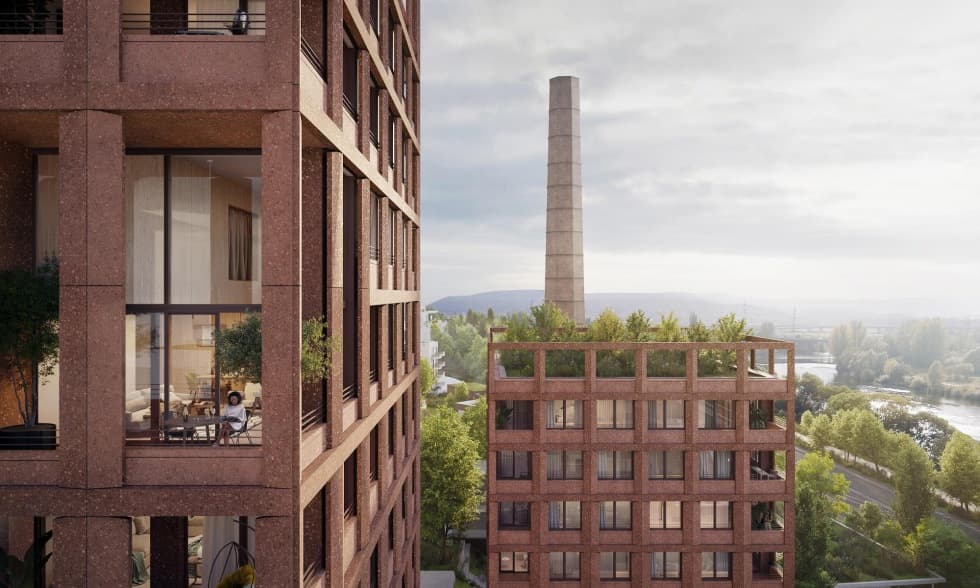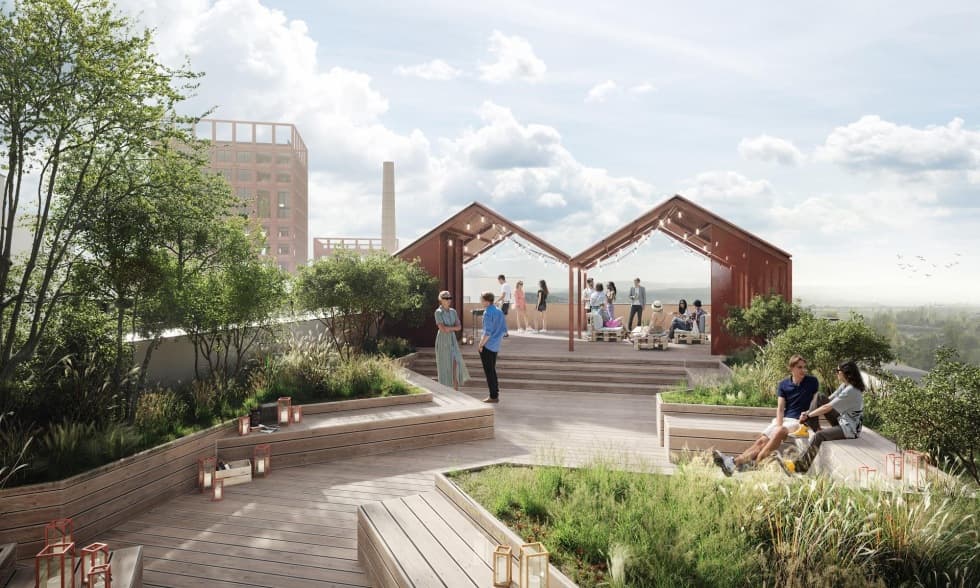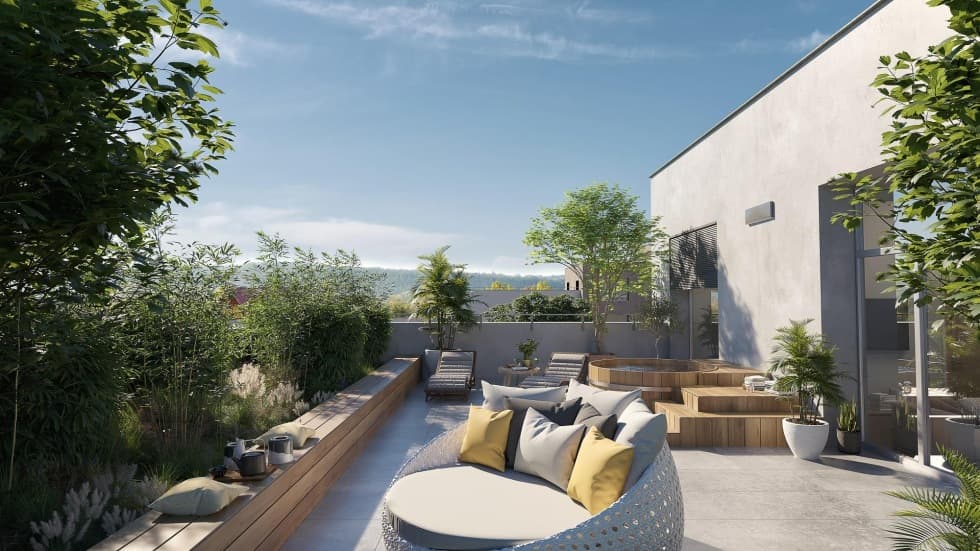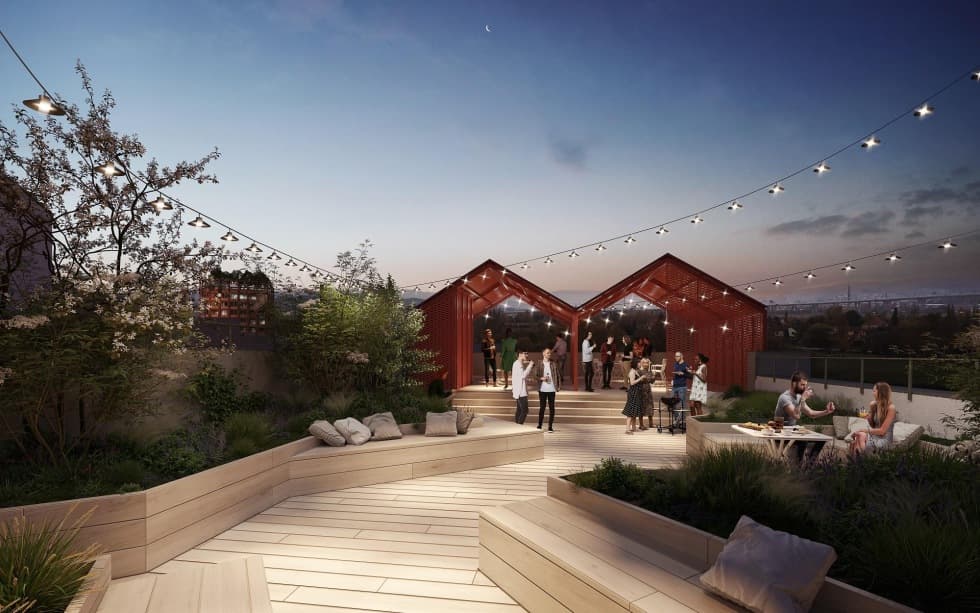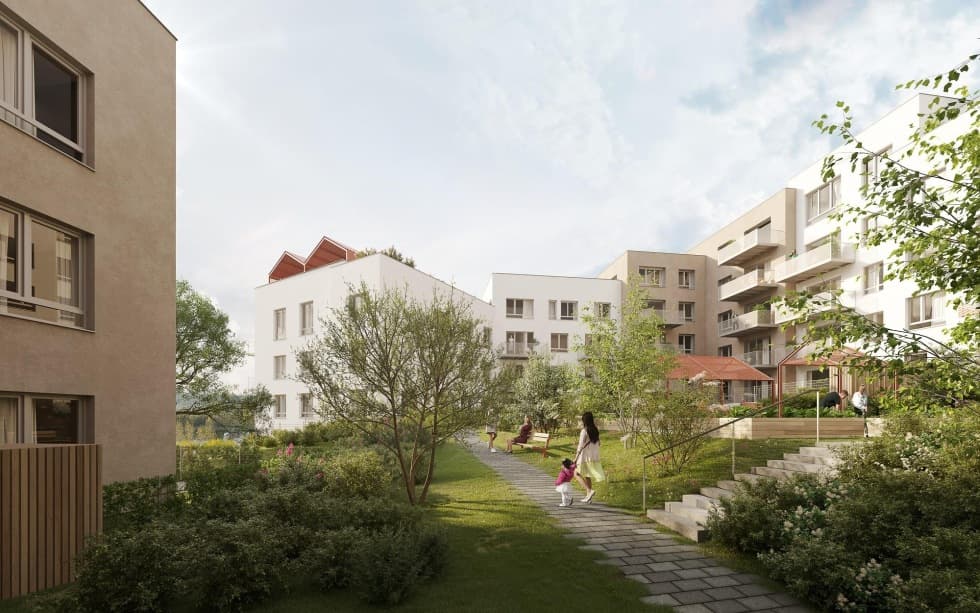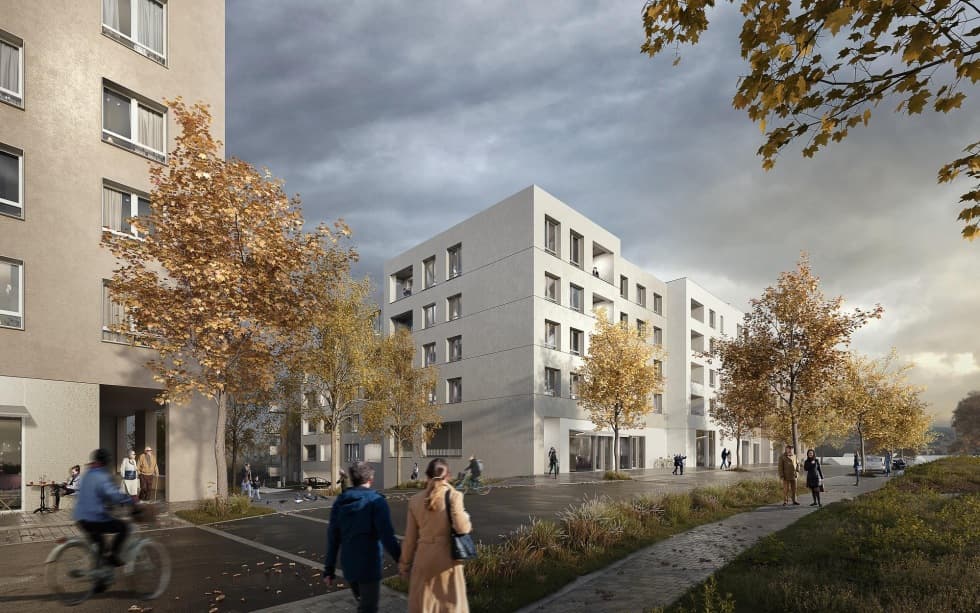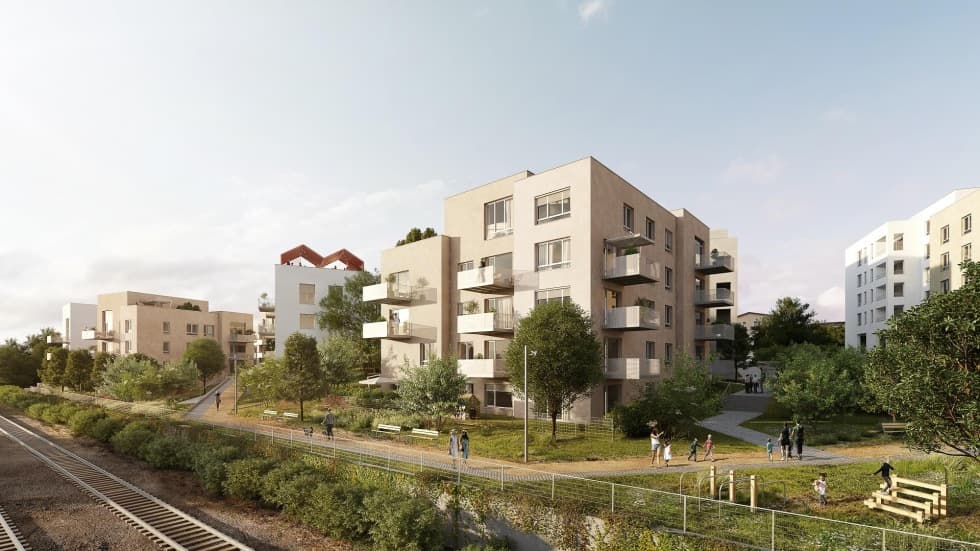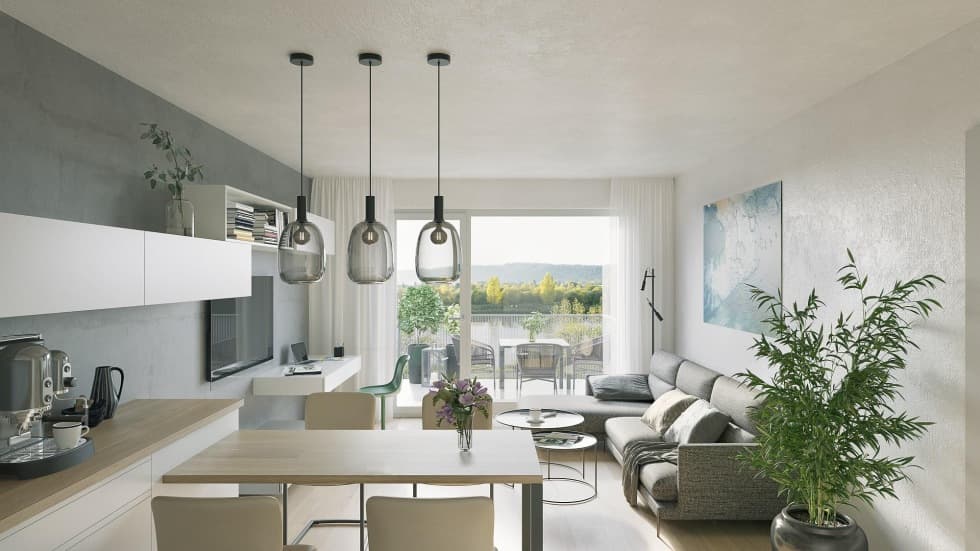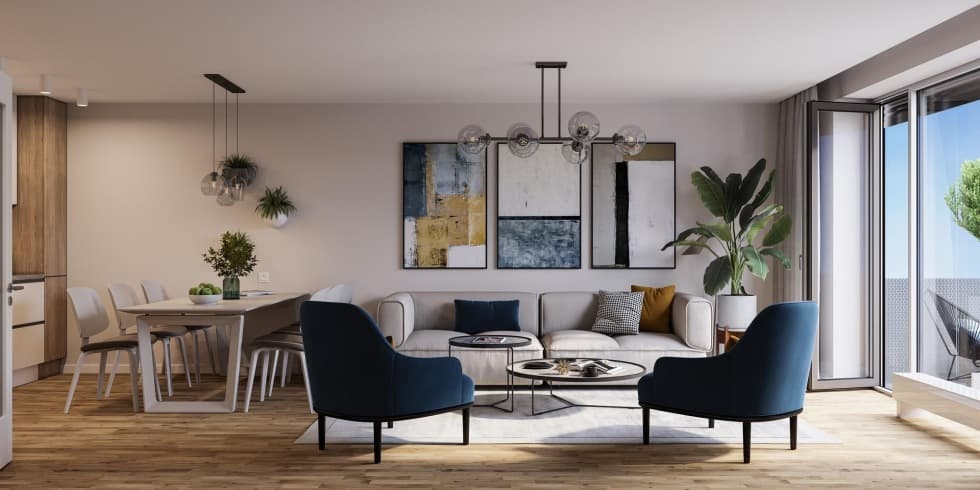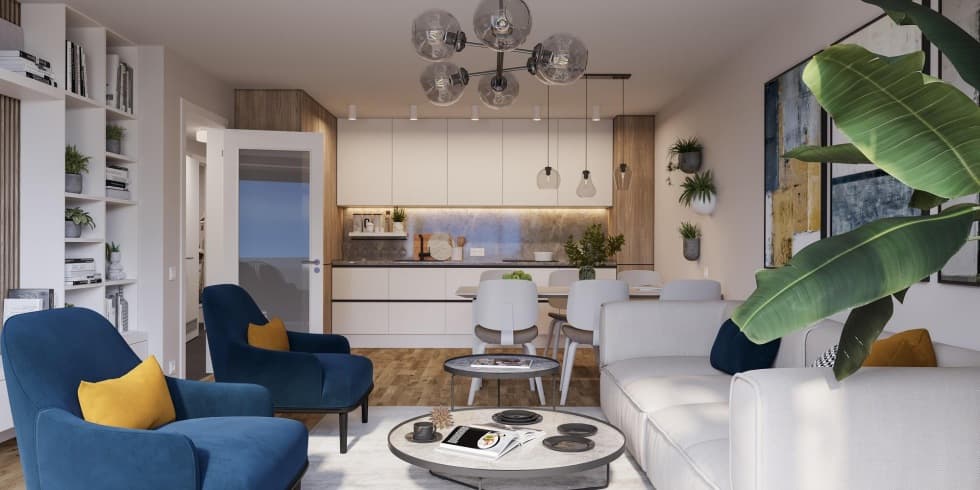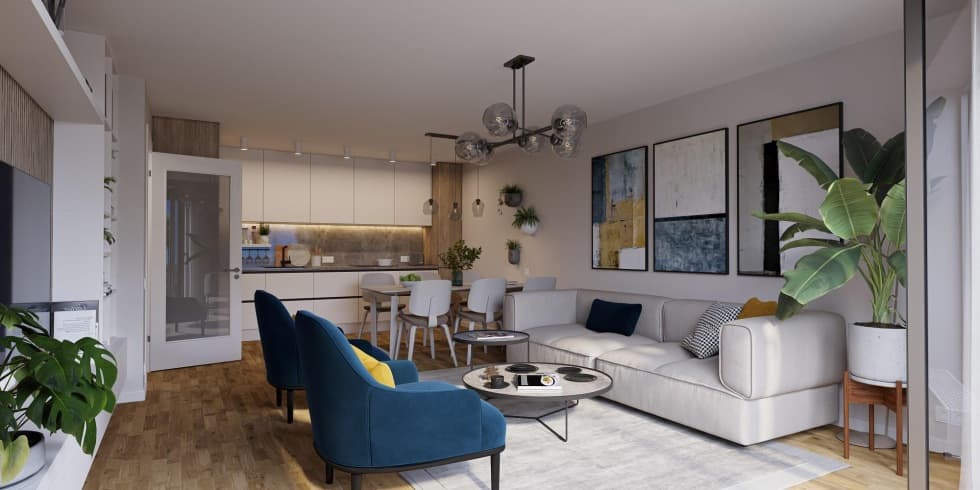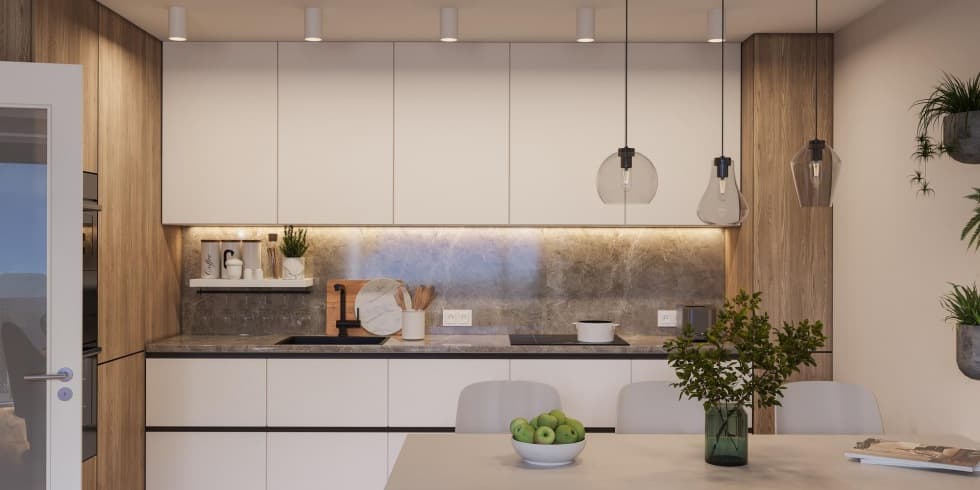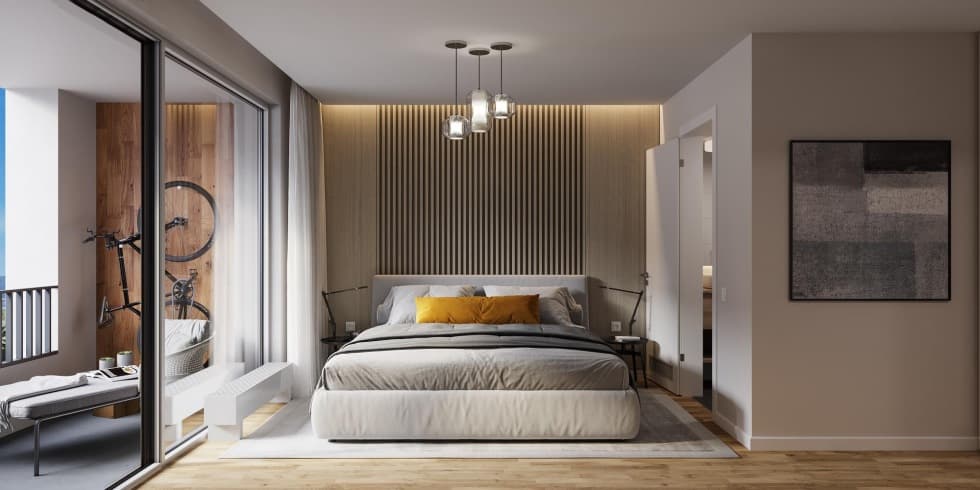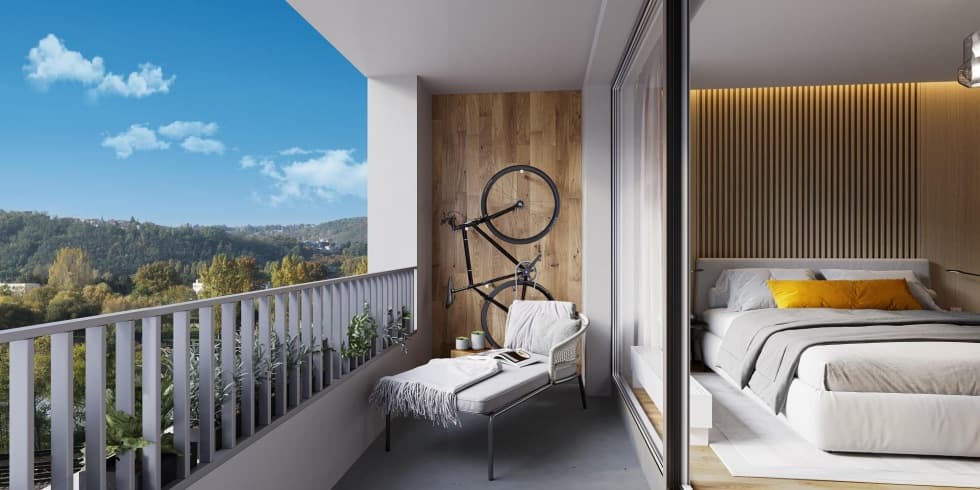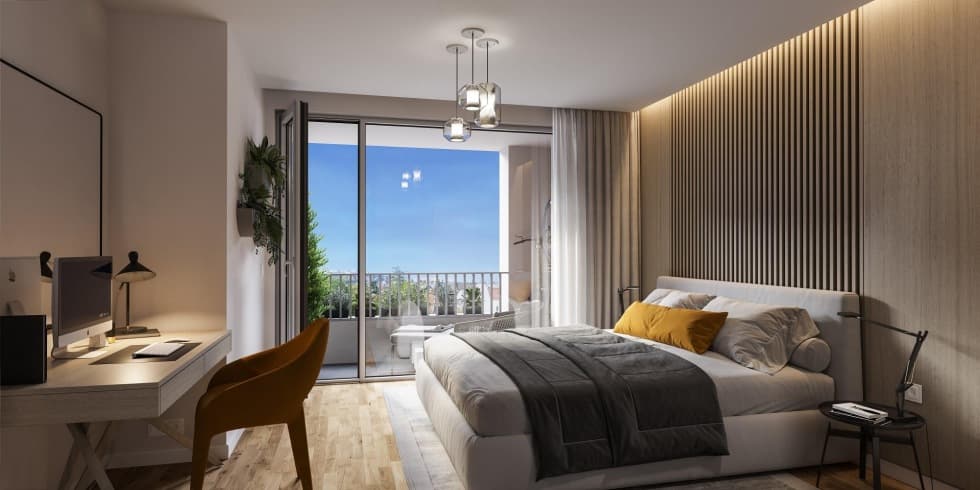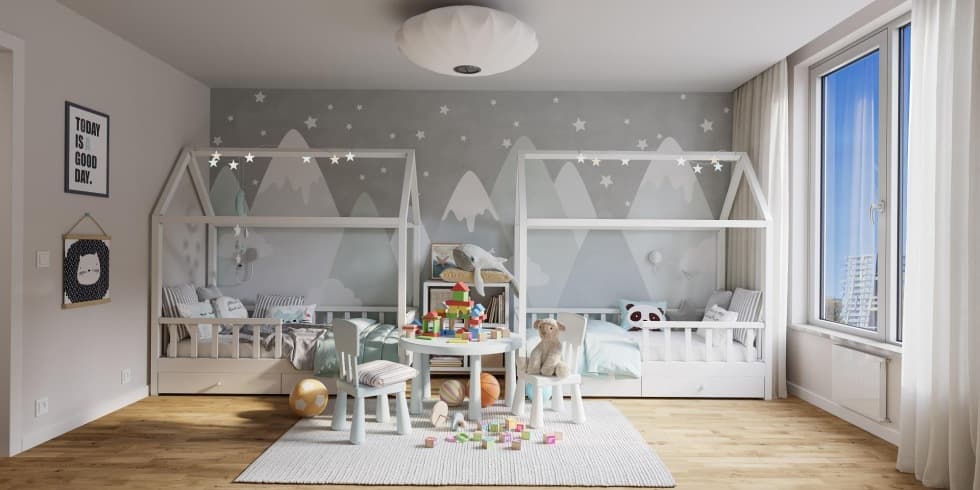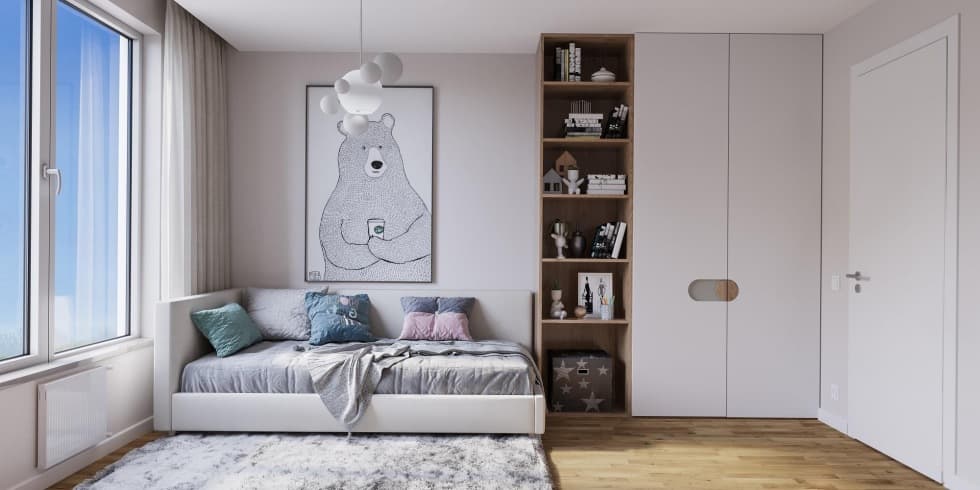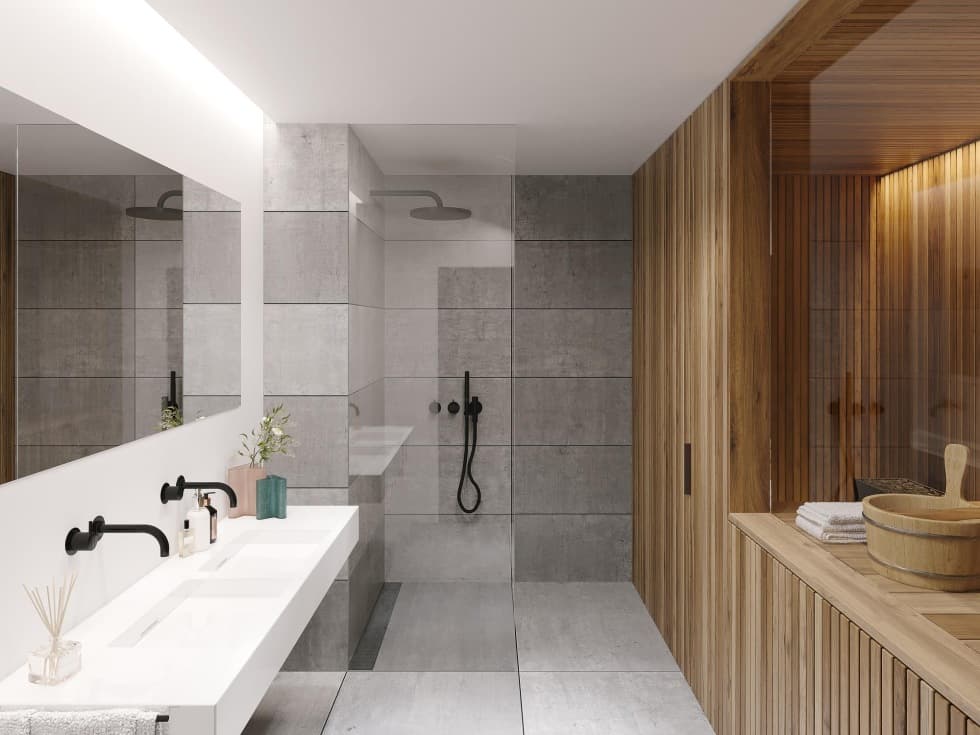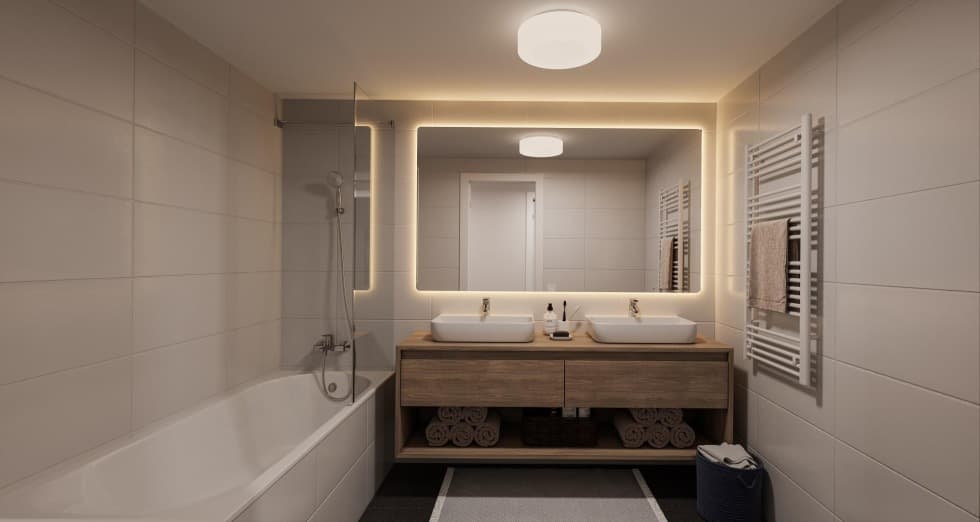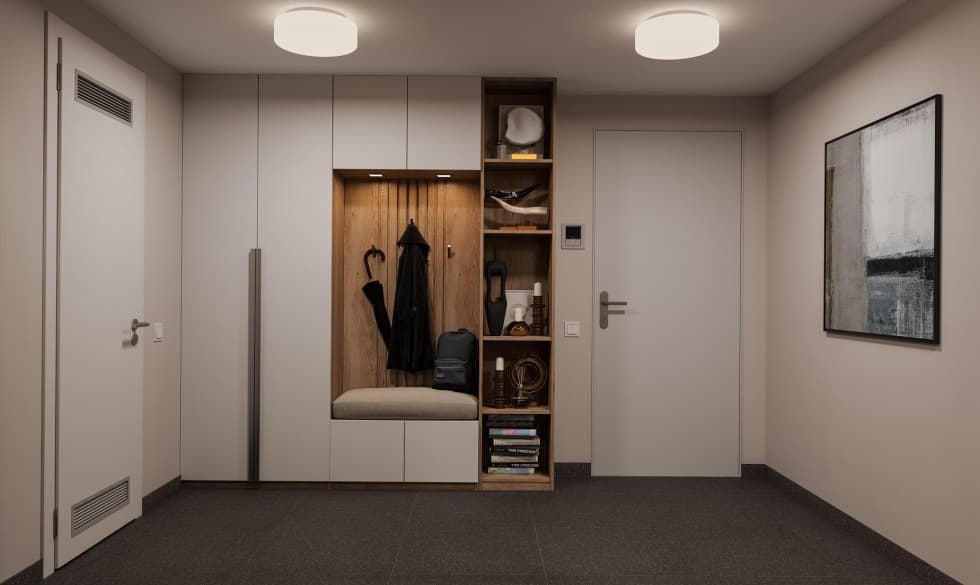 Commercial premises for your business in Modřanský Cukrovar
Up to 5,000 m2 of commercial space for shops, services, bistros and restaurants will be created in the ground floor of the apartment buildings on Komořanská Street and on the square, where architecturally distinctive buildings with premium apartments will be built.
There will also be a family brewery, a kindergarten, a supermarket, as well as small shops and service spaces. A new urban district is being created here.
Find a place for your successful business in the sustainable offices and business units of Modřanský Cukrovar.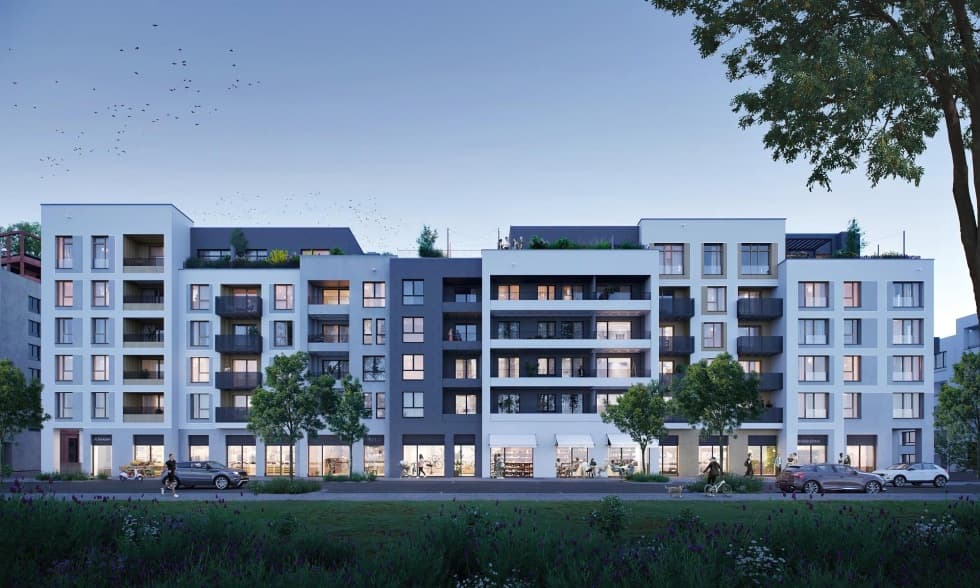 Blue-green development: where the planet doesn't pay the price
Unique in the European context, Modřanský cukrovar focuses on sustainability, innovation and good relationships between neighbors. Some of the technologies used here will be making their premiere appearance in this country. All uses of new technology are carefully calculated and supported with numbers.
Video spots will show you how Modřanský cukrovar plans to cut housing costs.
Milestones of the project
Construction start
spring 2022
Inner plaster
Autumn 2023
Take a virtual tour of your new home at Modřanský cukrovar.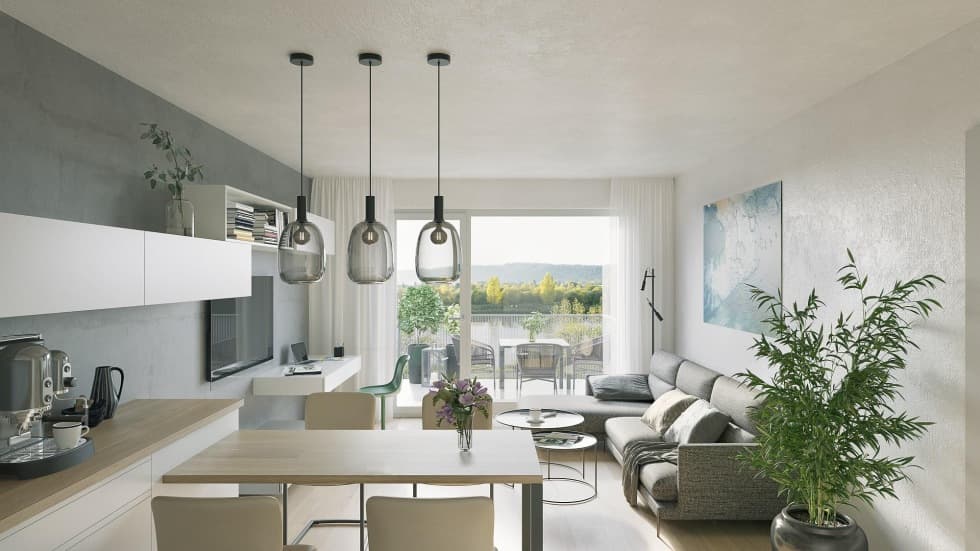 According to folk tales, Modřany was named for a blue floodplain flower. Historians say the name more likely comes from a statue of the Slavic goddess Morana that once stood on a burial ground here. What we do know for certain is that during the 19th century Modřany transformed from an agricultural village south of Prague to an important industrial center. The river always played a vital role in Modřany life as a major means of transport. In 1861 a sugar refinery opened on the banks of that river, playing its own role in the area for the next 140 years.
Today only remnants remain: the chimney and sugar loaf in the coat of arms for Prague 12.
Introducing Modřanský cukrovar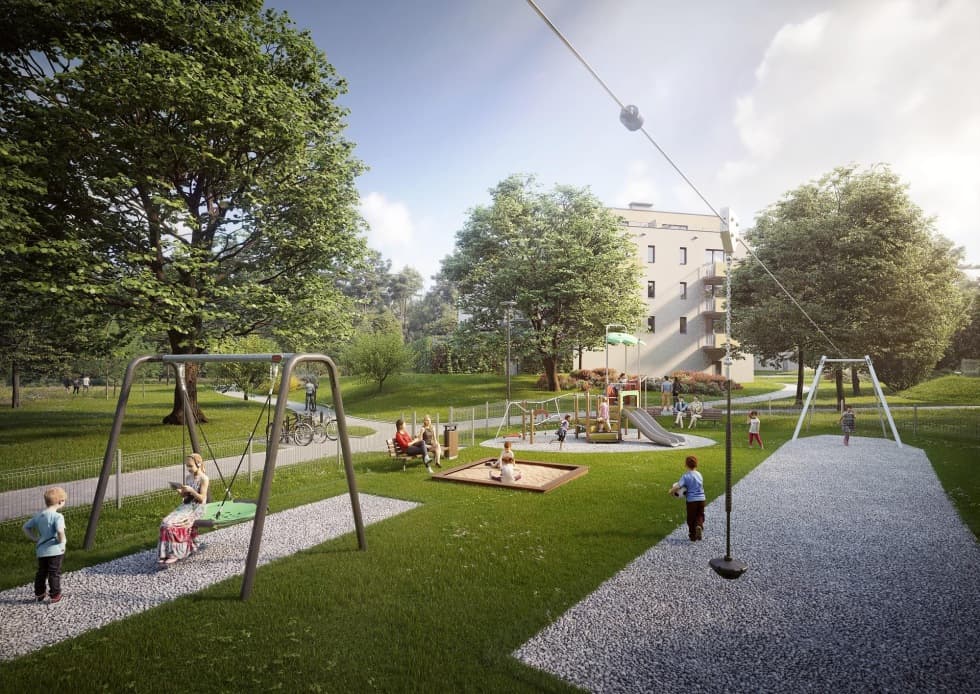 Download
all documents are in Czech
Energy performance certificates
Contracts
Project and equipment brochures
Visualization
All published visualizations are for illustrative purposes only and may differ from the final design in layout, placement, color, appearance, interior or exterior furnishings, or materials used.
Contact us
If you have additional questions or would like to arrange a meeting at Skanska Home Centre to discuss your selected apartments, please fill in the form below.
Contact
our real estate agents