Rezidence Čertův vršek zvítězila v prestižní soutěži Best of Realty — Nejlepší z realit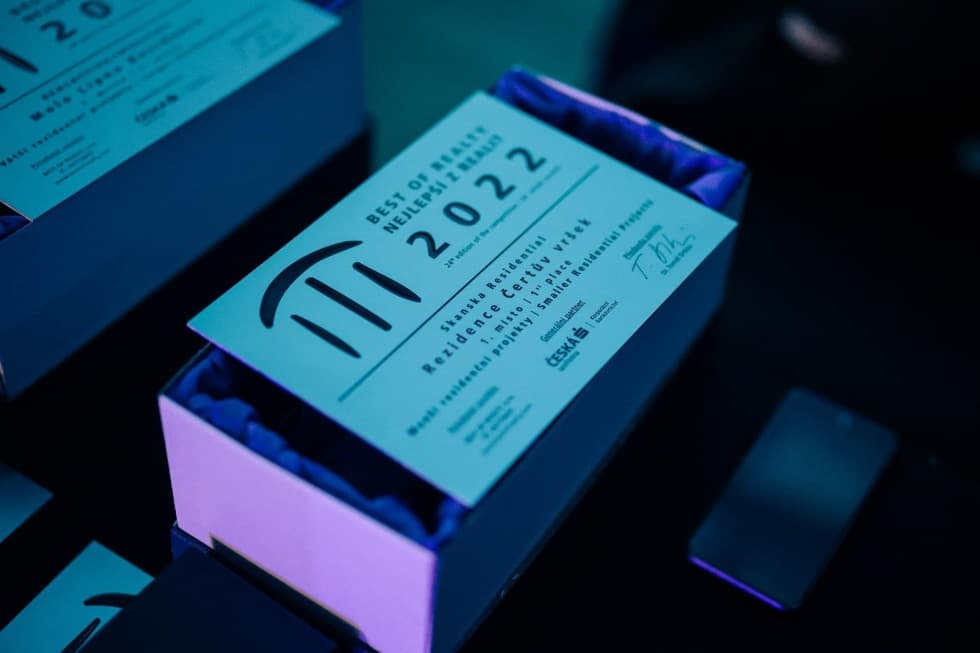 Soutěž Best of Realty — Nejlepší z realit oceňuje výjimečné projekty již od roku 1999 a v úterý 15. listopadu 2022 proběhlo slavnostní vyhlášení 24. ročníku. O letošních nejlepších projektech rozhodla devítičlenná odborná porota, v jejímž čele stál Tomáš Drtina, viceprezident Asociace pro rozvoj trhu nemovitostí (ARTN). Je nám potěšením, že v tradičně nejsilněji zastoupené kategorii rezidenčních projektů, zvítězila Rezidence Čertův vršek. Porotci ocenili především vysokou míru využití inovativních technologií a materiálů šetrných k přírodě, zároveň také architekturu respektující okolní zástavbu a moderní řešení společných částí bytového domu.
A není také divu! Rezidence Čertův vršek je z pohledu udržitelnosti skutečně výstavní skříní posledních hospodárných technologií a moderních řešení. Jedná se teprve o druhý developerský projekt v České republice, který ke splachování toalet využívá recyklovanou tzv. šedou vodu. Tato inovativní technologie se nachází v suterénu objektu a zajišťuje zejména snížení spotřeby pitné vody, a to až o čtvrtinu. Náklady na energie pak budou každoročně snižovat fototermické panely, které průměrně šetří až 60 % spotřeby zemního plynu pro předehřev teplé vody, ale také životnost kotle a životní prostředí. Na střechách zase pomáhá extenzivní zeleň, která funguje jako doplněk tepelné izolace a zároveň zachytává téměř 100 % dešťové vody. V rámci šetrného hospodaření s vodou je v areálu instalovaná rovněž akumulační nádrž zachycující dešťovou vodu, kterou mohou obyvatelé využívat k zalévání předzahrádek a sdílené zahrady. Dále díky důkladnému zateplení obálky budovy a kvalitním oknům s trojskly dosahuje projekt nízkoenergetického standardu s průkazem energetické náročnosti budovy B – velmi úsporná, který zaručuje výraznou redukci spotřeby energií na vytápění.
Příjemnou teplotu uvnitř bytů pomáhá udržet rovněž externí stínění a čerstvý vzduch zajišťuje rekuperační jednotka, která zároveň snižuje náklady na ohřívání vzduchu v místnosti a stará se také o jeho dobrou kvalitu. Čertův vršek si do budoucna odnáší i jedno světové prvenství, jelikož je tu udržitelnější beton rebetong vyráběný ze stavebních recyklátů zastoupen téměř ve čtvrtině konstrukcí. V neposlední řadě se objekt pyšní nadstandardní kvalitou zdravých a udržitelných materiálů s certifikáty EPD, FSC, PEFC a veškeré osvětlení v objektu využívá šetrné LED zdroje.